Drawer magnets have been used for a long period of time and are common in gravity feed applications. Like most magnets, they must be manually cleaned frequently by operators to maintain separation efficiency.
Three aspects of poor design can lead to serious issues in product security:
1. Unhygienic Magnet Design
Dead zones within the product flow area create a stagnant area causing unsanitary build-up. The internal surface of the Rapidclean® Drawer Magnet is free of ledges and moving parts which means it is self-draining and easy to wipe down.
Magnets with gaps between the frame or tight spaces create a place for unhygienic build-up or an area to accommodate contamination. This is common with magnet designs incorporating common wiper cleaning plates across multiple bars. There is high risk of contaminants remaining hidden and undetected by the operator. These designs are also prone to jamming and uneven wear on the seals.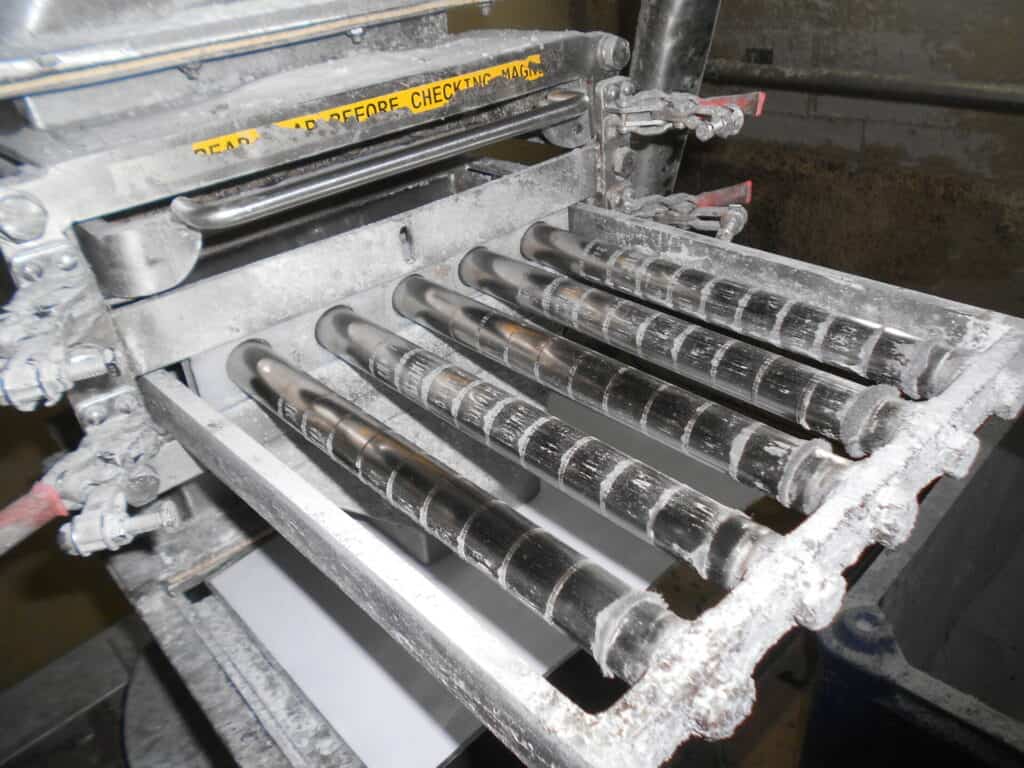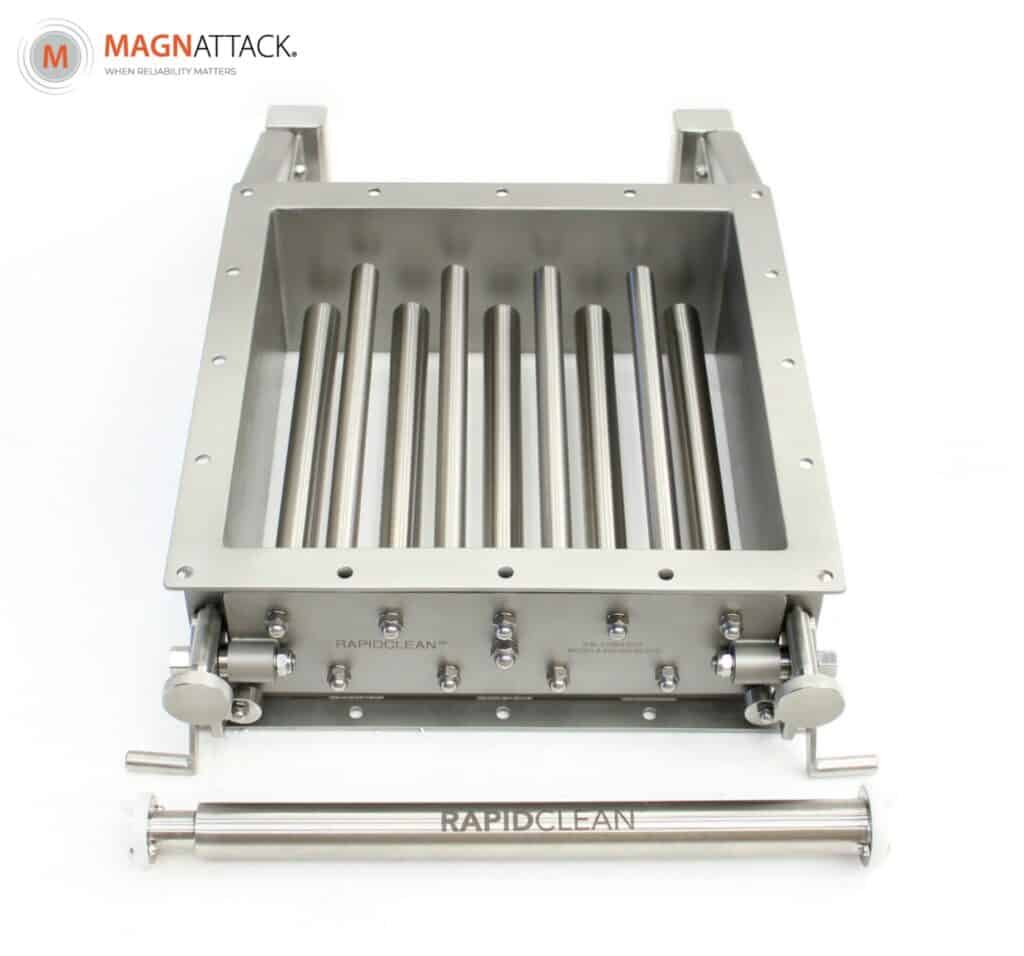 2. Coverage and Flow Restriction
You don't want tight magnet spacing to restrict the product flow and hinder throughput capacity. You also don't want wider magnet spacing to reduce effective magnet coverage and allow contaminants to escape the magnets.
You need to be able to configure the magnet bar elements to counter the speed and velocity of the product, but not restrict the flow rate. For ultra-fine powders with paramagnetic contamination, you must maximize product contact and optimize retention!
The Rapidclean® system can be configured to incorporate a combination of different size magnet elements and spacing depending on flow rate and the bulk solids specification. This means that product coverage is optimized despite the variation in density / speed / moisture / particle size of the product.
The patented feature of variable magnet spacing on the Rapidclean® means that this can be adjusted between different ingredients.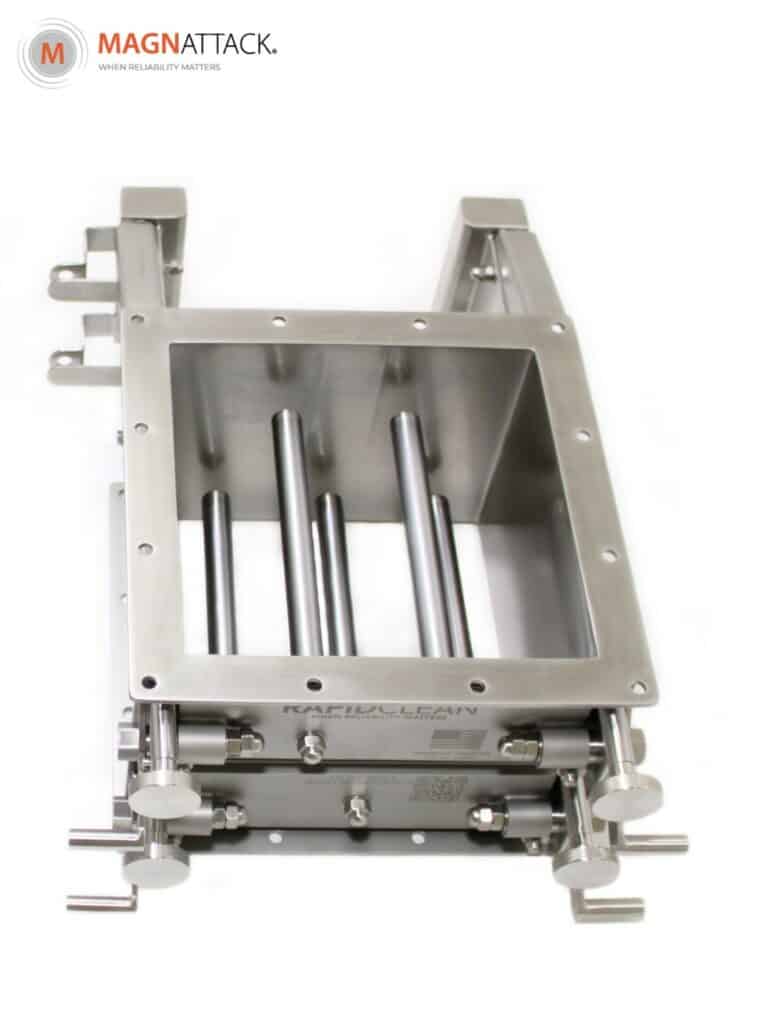 Range of different magnet configurations shown to suit various bulk solids and flow rate specifications
3. Handling magnets and WHS risks
Magnets may pose WHS issues to operators due to weight and risk of a crush injury.  The right design can minimize the manual handling required for inspections.
It is essential that operators can thoroughly inspect all product contact surfaces for accurate analysis of contaminants collected, however small. As shown here, the Rapidclean® magnets can be extended out and folded over for thorough observation on all magnet surfaces – without any lifting or manual handling.
With a cleaning operation that is performed entirely outside of the product stream, operators can access, inspect, and clean this magnet quickly and easily without the risks of re-contamination during cleaning.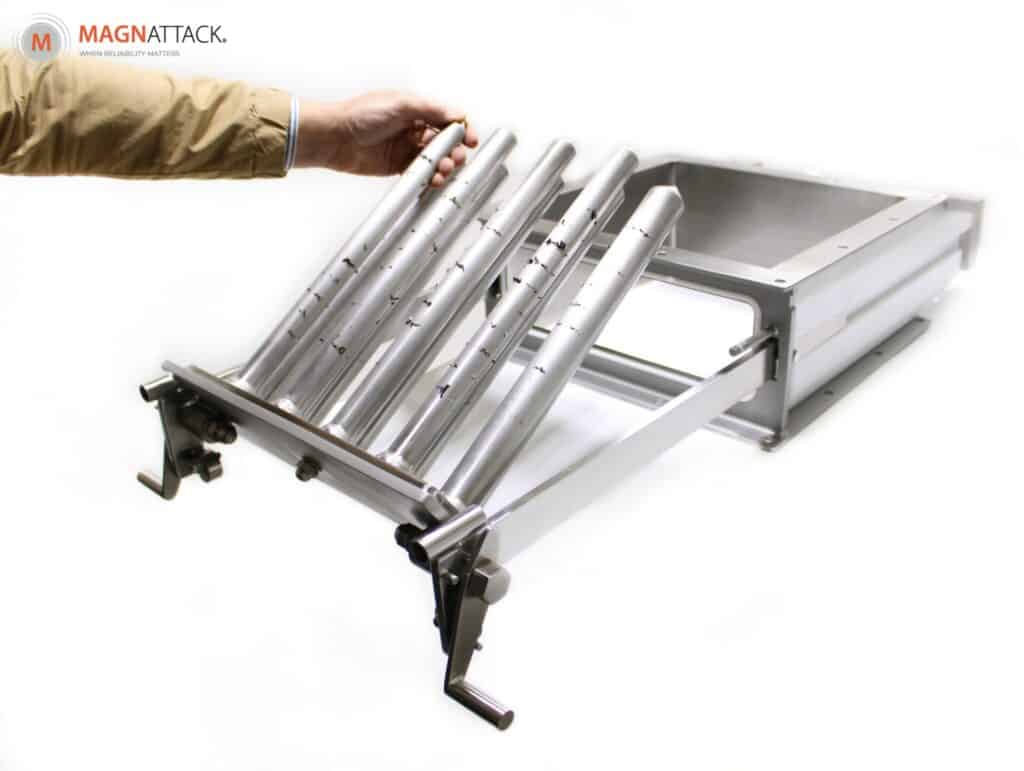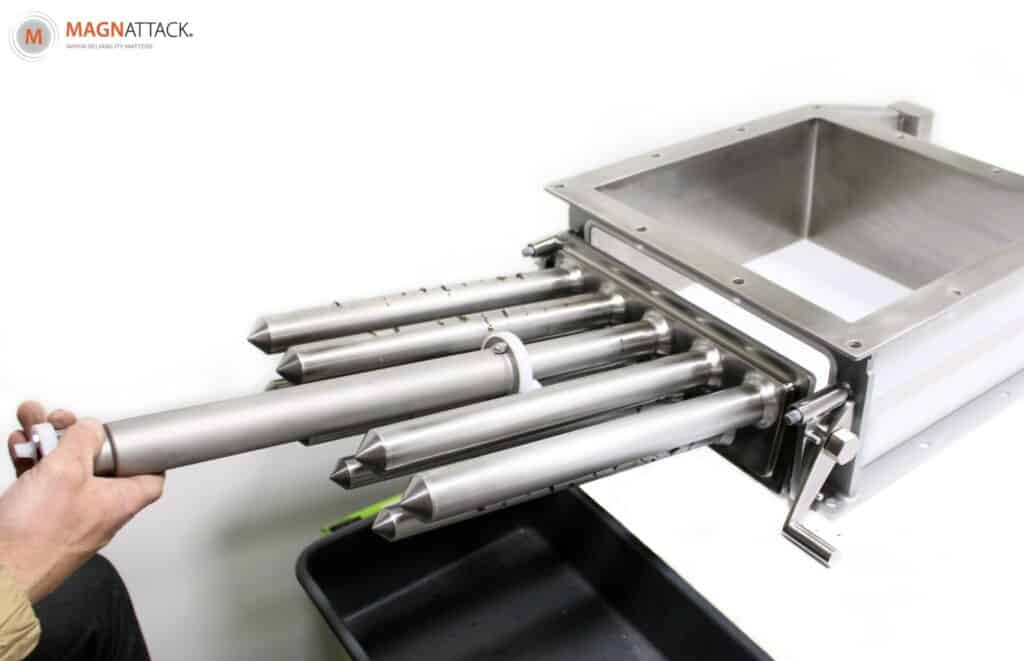 The RE80® Rapidclean® Drawer Magnet is a versatile design that can be configured in many ways to overcome these issues. The Rapidclean® has been successfully installed for protection of a wide range of ingredients such as dairy powders, flour, sugar, meat kibble, grain, and granular product.
Removable stainless-steel screen drawers are available to assist in filtering out large, non-magnetic contaminants from the product flow (for example, stray paper and other debris from intakes/paper bag dumping). The screen is positioned above the magnet bars and assists with consistent distribution of product and reducing the effects of abrasion.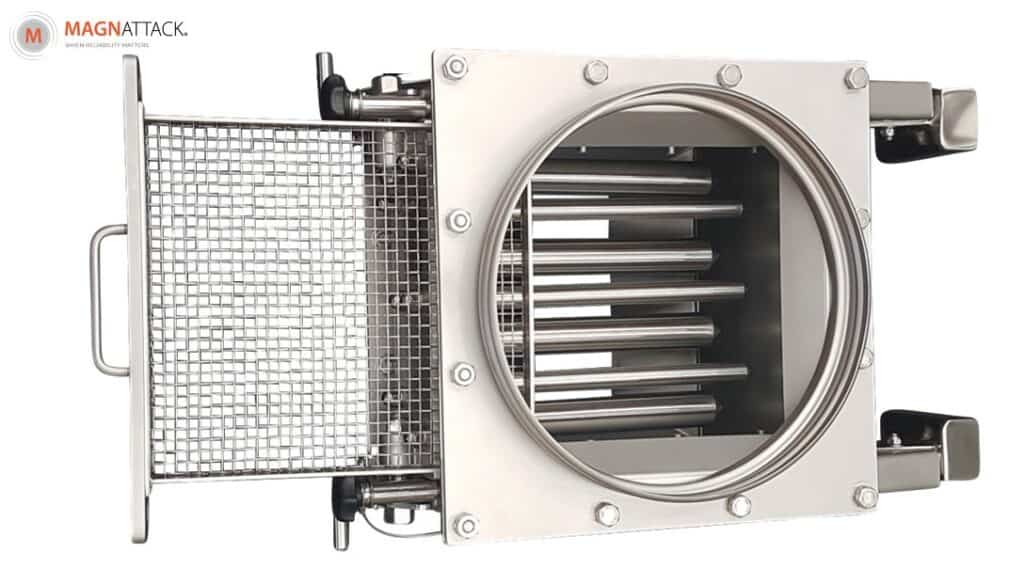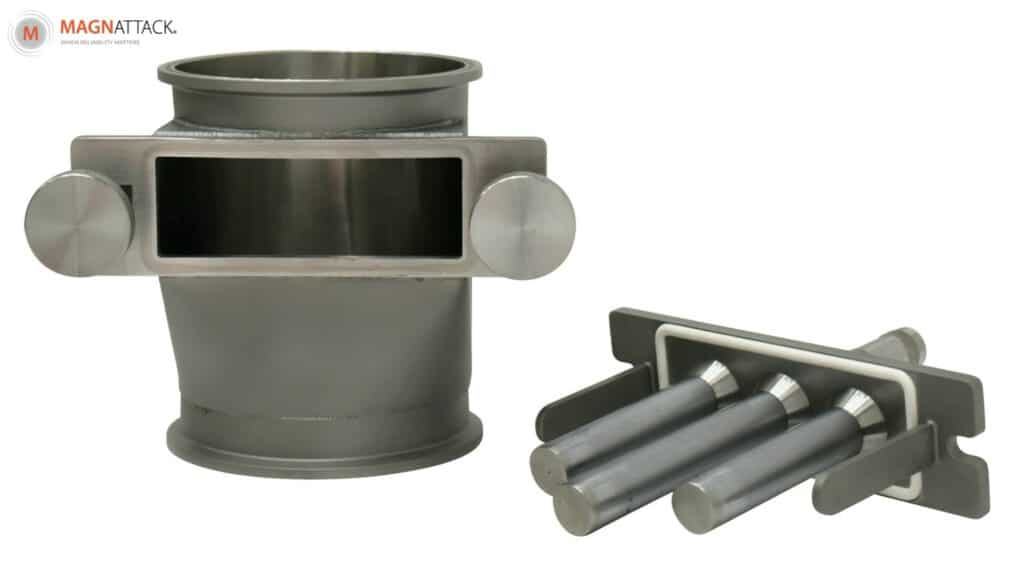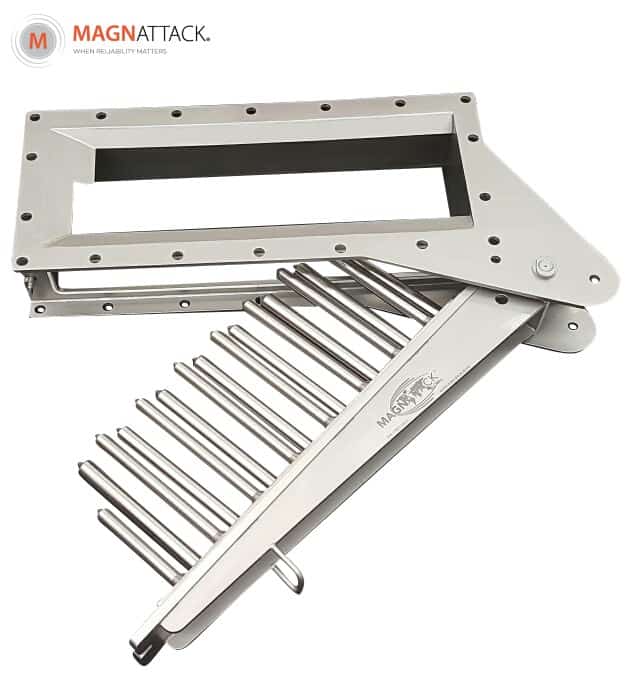 Rapidclean® in summary:
Hygienic ledge-free interior
Blockage and flow problems solved with open-ended magnetic bars and adjustable magnet bar spacing
Flexible design allows for unexpected increase throughput
Maximum product-to-magnet coverage
Captive door closing devices prevent contamination risks
Superior separation efficiency and product purity
Safe removal of metal contamination including work-hardened stainless-steel and stone
High-intensity RE80® and RE80®HT magnet elements
Certified to +11,000 Gauss at product contact
Individual magnet cleaning ensures no risk of drawer jamming – a problem typically and regularly experienced with multi-bar cleaning methods and sleeved drawer magnets
Withstands cleaning temperatures of up to 150°C/302°F
Rapidclean® quick-release magnetic door closure prevents high leakage of powder and product when opened for cleaning
Self-supporting & lightweight design – no heavy lifting required
The Rapidclean® Cleaning Tool & Tray
USDA-Accepted models available for dairy and lactose powders, pharmaceutical powders, infant formulas, and other sensitive products
Solutions for low headroom applications, with only 6.8″/175mm or less required
Optional vibrating motor retrofit assists with breaking up difficult-to-flow and sticky product
Offering increased product security on outgoing products, the Rapidclean® can be installed:

At the inlet of rotary valves
Upstream of all packing operations and bulker filling
Discharge of screw conveyors, elevators, flowveyors, and blenders
Prior to metal detectors (reduce rejection rate)
Prior to expensive processing equipment (reduce damage and downtime for repair)
For more information, or to request an estimate, contact us today.
Magnattack® Global – When Reliability Matters